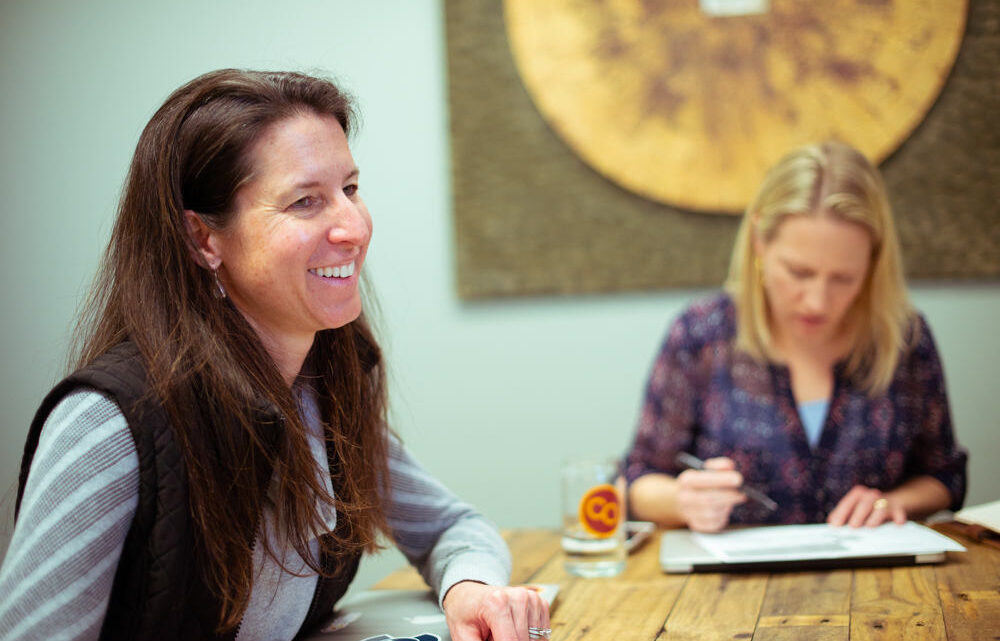 Recruiters at Creative Alignments come from all different backgrounds. Some have years of experience working as traditional contingency recruiters. Others have been in-house recruiters and many have deep industry experience in technology, food/CPG or professional services. Now working with Creative Alignments' Time-Based Recruiting, they have one thing in common: an appreciation for the way this unique hourly model so dramatically improves the recruiting process for recruiters, clients and candidates alike.

Time-Based Recruiting is different from traditional contingency recruiting in that we charge by the hour for the time it takes to fill our client's roles. There's no commission or retainer — just the straight hourly fee, like how a graphic designer or lawyer charges for their work. The model blends the best of the agency world with the best of the in-house world. We are a third-party recruiter who works as an integral part of our client's team. An on-demand, in-house recruiter, if you will.

From a recruiter's perspective, this is a much better experience for several reasons:

Develop Trusted Partnerships
When you are a recruiter at Creative Alignment, you focus on recruiting and building strategic partnerships with clients, not selling. As part of the client's team, your goals are aligned, not skewed by the "mis-incentive" of commissions. You form relationships with hiring managers and are able to receive clear feedback along the way to minimize time spent going down the wrong path. You have the opportunity to be thoughtful, targeted and efficient about matchmaking, rather than just throwing resumes over the fence or competing with other recruiters. Work is about quality, not quantity. Clients lean on our recruiters to be trusted consultants and advisors at each step of the recruiting process.
"I have traditional agency experience so Time-Based Recruiting has been such a game changer for me," says technical recruiter Triza Codillo. "It took a little getting used to, but now that I've been steeped in it, I don't think I could go back. I like it because it encourages me to take a more strategic approach to my work. It also allows me to take ownership of my schedule and develop more impactful partnerships with hiring managers."

Part of a Collaborative, Supportive Team
Our recruiters work together, sharing knowledge, networks and ideas to help clients hire the most relevant candidates and work in a way that is most productive. There's no cut-throat competition. Candidate ownership has no place in our Time-Based Model, where we share resources and work toward the same goals. We share kudos and congratulations daily to recognize each person's contributions to a win.
"I've experienced working for really good (and some not good) companies in the past," says senior food/CPG recruiter Tyler Monzie. "I can honestly say, I have never had a better experience/fit for me than working at Creative Alignments!"

Foster Transparent, Honest Relationships
Our recruiters don't edit resumes, coach candidates or do anything underhanded to make a candidate look better than they are just to get a commission. Instead, our recruiters present each candidate to the client with honest feedback and recommendations about where the client may want to explore more in their interviews. We also value honest and clear communication from our clients so that we can make course corrections along the way to better serve them.

Time-Based Recruiting Provides a Predictable Income
Just like we charge our clients hourly, our recruiters are also paid hourly so, unlike most agency recruiters, they have a consistent income, rather than waiting for a commission. We are a W2 employer (not a contract employer) that has strong benefits, a people-first culture, and flexibility for work-life balance.

Keep Life Fun with a Variety of Clients and Roles
Our clients are some of the most innovative and quickly growing in their industries. Our recruiters are able to work on a variety of clients, functions and roles, rather than only working on a few types of roles for a single company. The diversity of work keeps work fun and interesting.
"What I really love about working with Creative Alignments is the opportunity to work with companies that are trying to make a positive impact on the world," says senior technical recruiter Hadley Solomon.

Work is Fulfilling
Creative Alignments is focused on working with companies that use their business as a force for good, either by being a people-centric organization, mission-focused, or committed to diversity, equity and inclusion. By helping these companies hire the people they need to make an impact, our recruiters are helping to make the world a better place.

Create Rewarding Candidate Experiences
Because our goal is to find the most relevant candidates for our clients, we are honest with candidates too. We let them know where they stand at each step of the process. When you are a recruiter at Creative Alignments, you know you are doing right by the candidate and can feel good about the types of opportunities you put in front of them.

Creative Alignments is committed to creating a great place for people to work, and has been recognized as one of the Outside Best Places to Work five times. As a team, we live our values every day, and are committed to helping people and impact-focused clients grow with great talent.