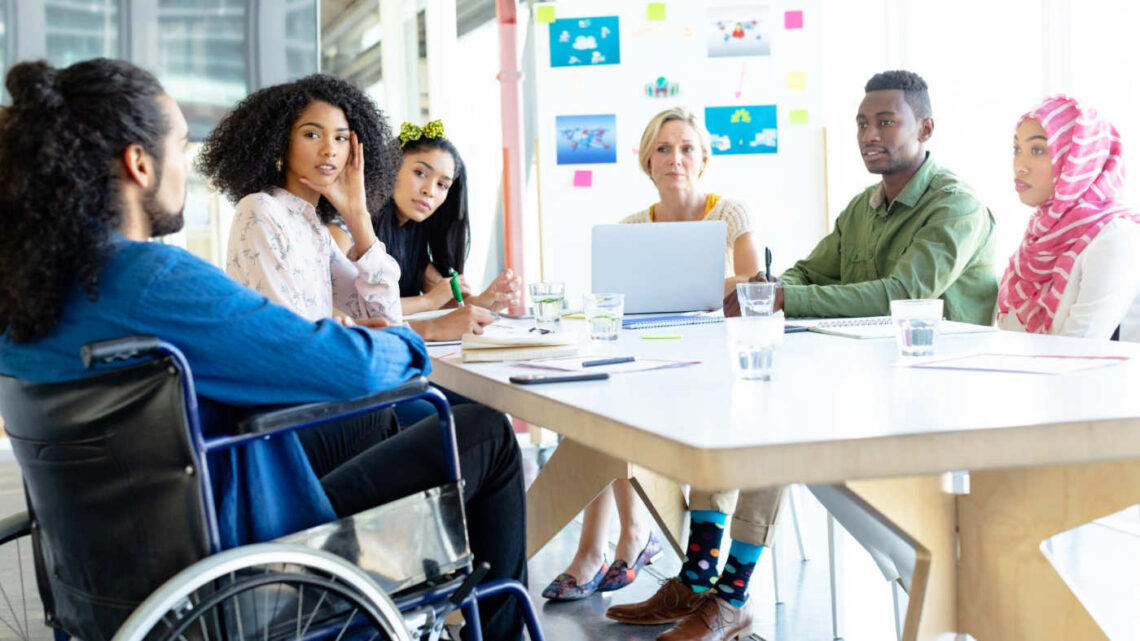 Building a diverse workforce takes proactive, intentional work. Creative Alignments' CEO, Peggy Shell, shares her journey into actionable change.
This article first appeared on Inc.'s Entrepreneurs' Organization page.
——
I am a well-intentioned white CEO.
As a female entrepreneur with a majority-female staff and hiring practices mindful of diversity, I thought I had created an inclusive workplace. But, like many leaders who have recently been impacted and educated by the honest conversations sparked by movements like Black Lives Matter, I am bellying up to the fact that what I once thought was good, is far from enough.
Business leaders around the world are asking themselves and each other some very uncomfortable questions about how their personal and corporate values, practices and biases perpetuate racism and erect barriers for minority groups–whether intentionally or not.
As the founder of a recruiting company, we can use our work to create change, both within our own business, with our clients. Like many people who care and want to do the right thing, we wrestle with how to make meaningful, action-oriented progress. Here are some things we have learned.


Define what diversity means to your company
In business, as in nature, diversity equals resilience and strength. A team of people with different personalities, beliefs, backgrounds and experiences can bring valuable ideas and viewpoints to your business.
Before you can build a more diverse workplace, take an honest look at your team's composition, who you are missing, and what you want your company to look like in the future.
Most people think of diversity in terms of race, gender, sexual orientation and age. When hiring, consider including candidates from other marginalized groups, such as neuro-diverse people.


Diversity takes proactive, intentional work
Are you taking steps to attract diverse job candidates? Consider incorporating the following:
Speak to the people you want to attract. Study how language in your job descriptions may cause your target candidate to apply or opt-out. One obvious example is using words like chairman or salesman, instead of chairperson or salesperson. New technology, like Textio, can help with this.
Consider more inclusive job requirements and hiring practices. If a job description calls for experience in a similar role or a specific degree, it will limit who applies, and you may miss some great people. Instead, hire for potential to attract more diversity. You can assess that through behavioral-based interview questions or results-based hiring practices.
Post your job in the right places. Will diverse candidates see your job posting? If you post on a trade association website with majority white members, you will likely miss candidates of color. Instead, post where your ideal candidates are looking, such as Blacks in Technology or Diversity Working.
Source for diversity. Relying on active applicants (people looking for a job) will likely yield a more homogenous candidate pool. By proactively seeking out the candidates you want, even those not actively job-hunting, you are likely to find higher quality, more diverse candidates, especially for leadership roles. Use relevant keywords and look at organizations where your ideal candidate may be involved.
Get involved in new communities. Step out of your circle. For instance, if you're seeking more people of color, get to know your local Black Chamber of Commerce or Latino Professionals chapter.
Broaden geographic boundaries. Covid-19 pushed many companies to adopt remote workforces, removing geographic limitations in recruiting. By hiring beyond your company's hometown, you can tap into a much broader, and more diverse, candidate pool.


Dig into how unconscious bias impacts your recruiting and hiring
Unconscious bias is a social stereotype about specific groups of people that individuals form outside of their conscious awareness. This bias comes into play in ways we don't even realize–from who we envision needing in a particular role, to the language we use in job descriptions, to how we view candidates. Because the hiring process usually includes multiple people, such bias is compounded.
For instance, when you can see things like a candidate's name, where they went to school, or when they graduated, you may jump to conclusions about their race, gender, or age. One way to mitigate this is blind sourcing. Recruiting tools like SeekOut can remove such identifying factors. However, that alone is not enough. If you are looking for candidates in a specific geographic area that happens to be homogeneous, blind sourcing will probably not help you turn up a diverse pool of candidates. That will take more creative and intentional steps.


Make inclusivity a cornerstone of your organization
Set up your overall organization to attract and retain diverse talent. Ask yourself:
Is your interview process inclusive? For example, if it requires people to come back multiple times, potentially requiring several days of PTO, it may be unintentionally discriminatory.
Are you incorporating a culture of diversity into your interview process? It is perfectly fine to ask situational questions around company values. If you have diverse team members at the company, share the makeup of the team, and ask if there is an example of a time when they had similar co-workers.
Is there diversity on the interview team and in the company as a whole? If not, how are you addressing this with candidates? If all the photos on your website are white males, you're less likely to attract diverse talent.
Does your company expand accessibility with benefits that support mental, women's and LGBTQ+ health, disability-inclusive benefits, same-sex parental leave, or religious diversity?
Do you provide training or create space for open dialogue on diversity? Some companies have diversity task forces, or regular formal discussions for shared learning.


While not all of these ideas will be relevant in every situation, it's crucial that we collectively commit to taking a hard look at our practices and the impacts they have. By challenging the status quo and coming up with compassionate, creative solutions, we will create change together.