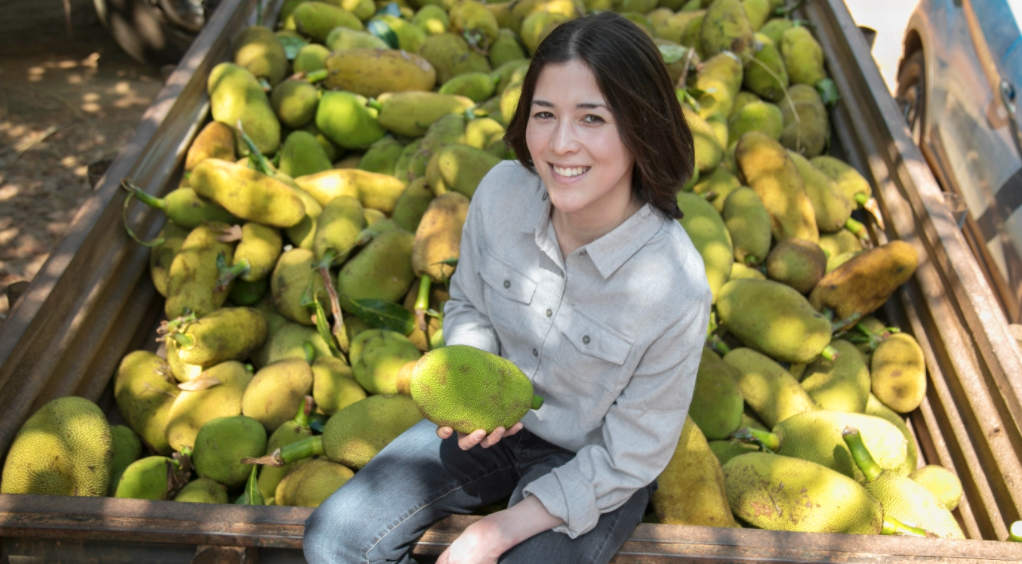 This Women's History Month, help us celebrate a few of the women who are making history. We don't have to look far. Female-founded and run, we are lucky enough to work with many other female leaders who are pushing boundaries and using their businesses as a force for good — whether that is by making better-for-you food, creating more sustainable business practices, creating great work cultures, or helping shift power dynamics to foster a more equitable world. We hope you enjoy meeting these women as much as we have.


Annie Ryu, Founder and CEO of The Jackfruit Company and Jack & Annie's
When she was still an undergrad student at Harvard, Annie founded The Jackfruit Company to transform healthy eating, farmers' livelihoods, and humanity's eco-footprint for the better. The company now heads up the largest supply chain of jackfruit in the world. Their jackfruit foods, including sister company Jack & Annie's plant-based nuggets, meatballs and wings, are sourced ethically and sustainably, direct from community farmers.
Annie's vision took shape after a 2011 trip to India to implement a maternal and child healthcare program she'd developed as a pre-med student. On her travels, she discovered the giant, funny-looking jackfruit, and noticed that most of the fruit was going to waste. She learned that the jackfruit is wholly adapted to its environment (resistant to high temperatures, drought, and easy to grow), nutritionally dense (high in fiber, low in calories) and has a meaty, firm texture and versatile flavor. But despite its local popularity and abundant production, a virtually non-existent international supply system meant the majority of this miracle food was left unsold and uneaten.
The Jackfruit Company has led the charge in bringing this healthy, delicious meat alternative to new markets, and, in the process, is contributing 10 to 40 percent of the annual income of the farmers they work with.


Shina Culberson, President of Quist Valuation
Quist Valuation helps business owners grow the value of their companies and get ready for ownership transition. In an industry largely run by men, Shina's leadership has elevated this small firm to punch well above its weight, thanks to her unique ability to blend the tactical elements of valuation with the empathy and emotional intelligence needed to navigate such a critical transition.
As an innovator in the financial services industry, Shina led the development of Quist Insights, a technology platform that helps business owners better understand the impact, ROI and prioritization of implementing specific business changes to increase the value of their company. Included in the 65 questions and six different valuation drivers is an Environmental, Social and Governance component. This element brings often unaddressed issues to the forefront of the conversation and helps companies move forward in more intentional, socially responsible ways. In the end, companies are far more likely to see the monetary value of things like improving company culture, creating a workforce that looks like the people it serves, and inviting diverse voices to the table.


Gail Becker, Founder and CEO of CAULIPOWER
As the mother of two boys with Celiac, an autoimmune disease that leaves the body unable to process gluten, Gail tried desperately to find nutritious, gluten-free comfort food options for her boys that weren't filled with fat, sugar and salt. Frustrated by what she found, and spurred by the death of her father, she realized that she wanted to have a larger impact on the world. She quit a prestigious job in public relations to found CAULIPOWER and revolutionize the frozen food aisle at the grocery store.
By offering delicious, easy-to-prepare and better-for-you foods that incorporate vegetables, healthy eating no longer has to be a compromise. From cauliflower crust pizza, cauliflower-breaded chicken tenders, sweet potato sliced toasts, and cauliflower-based tortillas, people with high standards, but little time to spend in the kitchen, can now have healthy comfort food as part of their everyday diet.


Jess Page and Nicole Doucet, Co-founders of Open Water
Jess and Nicole were determined to have an impact after they saw a documentary in college about plastic pollution and learned a disturbing statistic: 1,500 plastic bottles are used every second.
Their solution was to found and grow Open Water, a leading sustainable bottled water company that pioneered the use of aluminum bottles and cans as a more recyclable and recycled alternative to plastic bottles. In 2020, the company took things a step further and became the first certified Climate Neutral water brand in the world. Open Water has already eliminated the need for tens of millions of plastic bottles and are aiming to keep 1 billion out of our oceans over the next 5 years.


Silencia Cox, CEO of Motherlove Herbal Company
Not only does Silencia run Motherlove, she is also the inspiration for the company. A generation ago, her mother, Kathryn, founded the company when she was pregnant with Silencia and began incorporating wild plants into her daily life. Silencia grew up helping her mother pick herbs in the area surrounding their mountain home in Northern Colorado. Now, over 30 years later, Silencia continues to lead Motherlove with the same values by producing all-natural products for pregnant and breastfeeding mothers. What started as self-care, has grown into a successful, Certified B Corporation company with worldwide distribution and a commitment to environmental and social sustainability.


These are just a few of the professional women we admire. Creative Alignments is proud to help innovative, compassionate leaders grow their companies with top talent. Stay tuned as we profile more people and businesses that are making the world a better place.