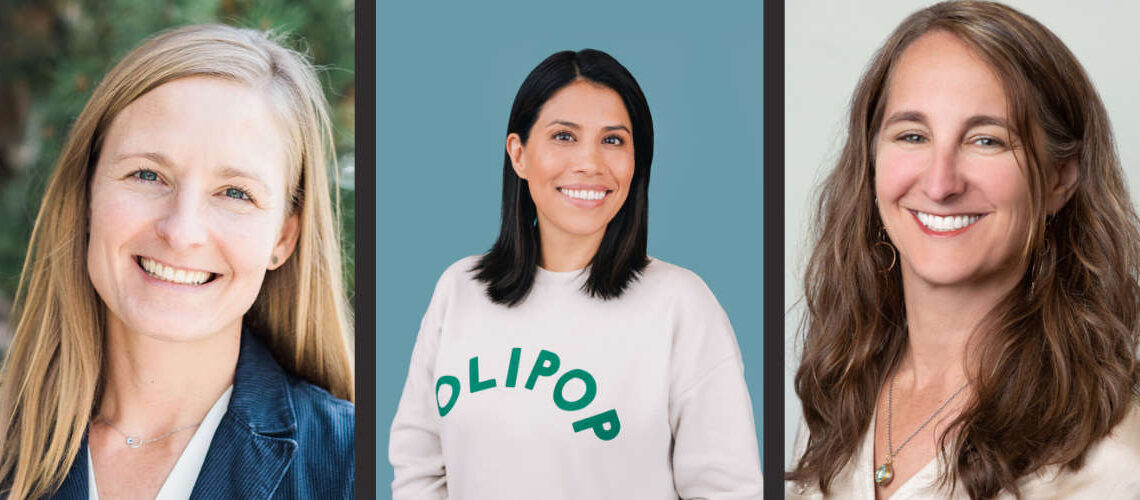 What is the common thread that runs through the long line of women who've changed the course of history? They were unapologetically themselves, using their voices and ideas to create change, often raising up others with them. As Rosalynn Carter said "A leader takes people where they want to go. A great leader takes people where they don't necessarily want to go, but ought to be."

While some women set out to change the course of history, more did so through their everyday actions. This Women's History Month, we're celebrating by hearing from three female entrepreneurs about their impact and how they elevate and empower other women to launch into leadership.

Abby Schlatter, Founder and CEO, commonFont
"Working in the male-dominated tech industry can be intimidating for women. As a female leader, I lead with boldness and authority, and I share my point of view. I encourage others to step into their confident voices and do the same.
"I have a deeply held belief that if people are given enough exposure, opportunities and encouragement, they will be able to achieve anything. Believing that you can and having other people believe in you are very powerful motivators. This is what we strive to do at commonFont. We bring in teammates with diverse perspectives who have the potential to step forward and up, and then we equip them with support, coaching and empowerment to grow into their full potential and confidence.
"One way we do this is by recognizing that teammates have different needs at different stages in their careers and lives. We are open to how people seek to evolve over time, and with that, we promote and develop their strengths to help them take the next step. Another way is by recognizing performance and contributions based on the collective achievements of teams, versus only celebrating individual performance. This opens new avenues for leadership and recognizes the diverse contributions of teammates, including women.

Liz Trowler, Chief of Staff, OLIPOP
"I used to have this idea of what leadership looked like — what it meant to be a top executive in the boardroom. Now that I have a seat at that table and am a leader who is celebrated for me, I realize that I held myself back with this mindset early on in my career. I want to show women that they can be themselves and grow in the process. They don't have to fit into some archetype.
"I really try to humanize leadership. I show up as myself every day so that others feel like they have permission to show up as themselves too. I feel proud that I can be a role model in this. It's not going to be perfect, but that is a big part of it. I'm a little quirky. I like to have fun. I've seen a lot and I'm fearless. So I bring all that to work with me and it makes me the leader I am. I want to hire people who will add their own value to our culture and bring their special sauce to work too.
"When I see a woman in our business who is just starting out in her career, but handling a situation like a pro, I am really encouraged and proud of the empowering, open culture we foster here at OLIPOP."

Peggy Shell, Founder and CEO, Creative Alignments
"Although I grew up in an entrepreneurial family with parents who valued education, their mindset was more focused on women running families than running businesses. The idea that my goal would be to have a fulfilling long-term career was not part of the story I grew up with. I had to discover on my own the satisfaction I get from doing work I am passionate about, making a positive impact on the world, and helping others do the same.
"I think this is a big part of why I am so driven to create a great place for people to work, where they feel valued for who they are and supported to grow personally and professionally. As a small company, this focus on people and culture was easier and more organic, but as we have expanded, it has required more intentionality. We have a lot more priorities pulling at us now, so we have had to purposely stay focused on creating a people-first culture.
"Gone are the days of authoritative corporate leadership as the norm. Women have an awesome opportunity to change for the better what leadership looks like and how they inspire teams. Research shows that having women in leadership creates greater employee engagement and job satisfaction. I think this is because women more often lead with empathy, clear communication and an emphasis on interpersonal relationships – all things needed for a strong people-focused culture. This is the type of good that I want to perpetuate."
This snapshot from three different female leaders reminds us that, every day, exceptional women are making history all around us in ways big and small. So much progress has been made in gender equality over the decades, and we have more work to do. We look forward to the day when celebrating Women's History Month takes on a whole different meaning because women and men, people of color and of all other identities sit on the same plane in terms of value, inclusion, equality, and recognition. So today, take some time to show your appreciation for a woman who has positively changed the trajectory of your life by being a great leader.