Volunteer Day 2k16 was a Major Bean Thing
Creative Alignments partners with local organization, The Women's Bean Project.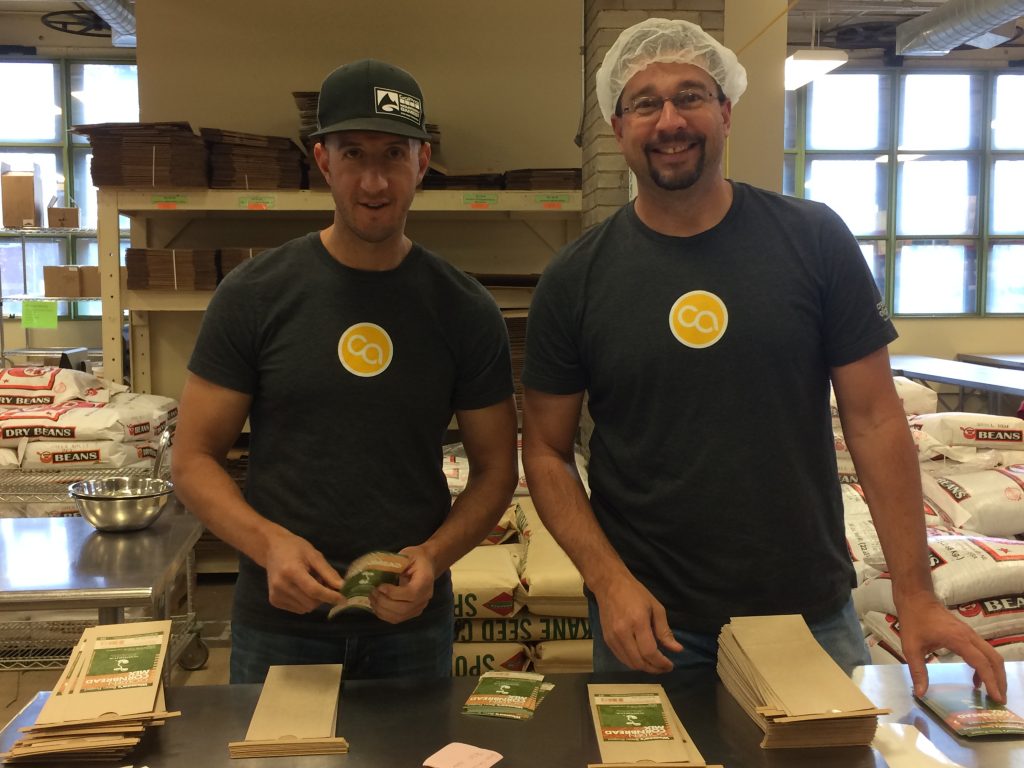 December 16, 2016
Creative Alignments recently partnered with the Denver social enterprise Women's Bean Project for a day of mutual learning, skills-sharing and community building. 
The Women's Bean Project was started to change women's lives by providing stepping stones to self-sufficiency through social enterprise.
Here's a shot of our team as they get ready to learn the ropes: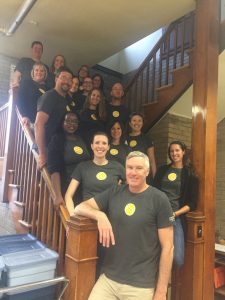 The Project's flagship program is a transitional job training program for women who have gone through life challenges and chronic unemployment, and are now seeking stability through avenues of gainful employment.
Through the Women's Bean Project's food production business, the organization provides several ways to engage these women by training and paying them for specialized labor. Products of the Women's Bean range from bean soup, cookies, handmade jewelry and of course, dry beans. You can buy these and many more products here.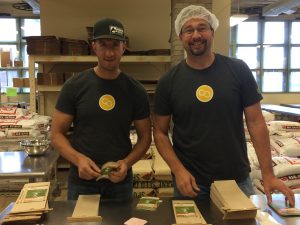 Technical Recruiters, Lee (L) and Kyle (R) excited to help with labeling the soup product.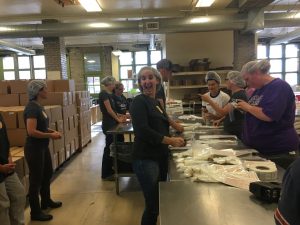 CEO, Peggy Shell, enthusiastically getting schooled on the bean business. 
Creative Alignments was fortunate to spend time with the women at the Project, starting off by shadowing the ladies with various tasks along the production line. Thereafter, we worked together to expedite production. As an added bonus, the CA team was able to role-play with some of the women by staging mock interviews to prepare them for upcoming job interviews after their tenure with The Project. 
A transitional job training program for chronically unemployed and impoverished women, Women's Bean Project provides jobs in gourmet food and handmade jewelry manufacturing. At the same time, they augment the skills they develop on the job by offering special programming and classes in interpersonal and life skills needed to move into career entry-level employment.
By working in an active business, program participants learn the importance of reliability, accuracy, punctuality, attention to detail and attendance; while also addressing life skills – communication, budgeting, accountability, problem solving and goal setting.
Their graduates become empowered to lead successful, self-sufficient and fulfilling lives, creating a brighter future – for themselves, their families, our communities and our economy.
As a child during the Nazi occupation of the Netherlands, Josepha "Jossy" Eyre (Masters of Social Work 1986) faced starvation, terror and the unspeakable trauma of losing siblings during the bombardment – all veiled in secrecy by adults too afraid to speak openly. The experiences left Eyre with a profound sense of hopelessness, something she recognized among the homeless women she encountered years later as a volunteer at Denver's The Gathering Place. How, Eyre wondered, could she help these women achieve independence and empowerment? The answer came in 1989 in the unexpected form of beans when Jossy founded Women's Bean Project.
Eyre saw that while the shelter kept women safe, it could not help them make lasting changes in their lives. Eyre bought $500 worth of beans and put two homeless women to work making bean soup – the first step in building the social enterprise we are today. Their training opportunities have expanded dramatically over 25 years, and the annual operating budget has grown from $6,100 to over $1.7 million.
King Soopers became the first grocery store to carry Women's Bean Project products in 1993. Women's Bean Project is part of The Colorado Department of Agriculture's Colorado Proud marketing program. To date, Women's Bean Project is sold in over 500 retail and grocery locations nationwide, including King Soopers and Safeway (Colorado locations), Ten Thousand Villages, Womensbeanproject.com and online retailers such as Amazon.com, Overstock.com and walmart.com.
Kudos to the great work that all do at the Women's Bean Project! We are proud to partner with their efforts to improve success in the workplace.