Creative Alignments named OUTSIDE'S Best Places to Work 2017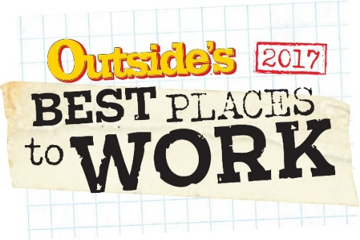 Boulder, CO  (November 7, 2017) – Creative Alignments announces they have been selected as one of Outside Magazine's Best Places to Work for 2017. The companies selected by Outside for this honor are not only great workplaces, but also encourage a balance between work and an outdoor lifestyle.
"From our company ski day on Boulder's local mountain to walks around Austin's Lady Bird Lake, you can often find our talented team outside, balancing hard work that supports our rapid growth with healthy activities," said Peggy Shell, Founder and CEO of Creative Alignments. "Whether it's biking to work or yoga at lunch, we believe in the productivity boost of being outdoors – and are proud to be named to this prestigious list from Outside."
Headquartered in Boulder, with offices in Denver, Austin, and Chicago, Creative Alignments provides pay-for-effort recruiting in the tech, food, CPG, professional services, manufacturing, and creative agency industries. This is the tenth year of the Outside Best Places to Work competition; companies from across the country participated in a rigorous two-part survey process, and were also evaluated based on workplace policies, practices, philosophy, systems and demographics.
About Creative Alignments :
Creative Alignments (CA) is a disruptor in the recruiting space, using a time-based, cost effective model to create a flexible talent partnership with our clients. As opposed to traditional percentage-of-salary firms who may push candidates for pricey fee-based windfalls, CA aligns with growing companies to tap exceptional talent while saving money with our transformative, pay-by-the-hour process. Our sophisticated senior team recruits across all functions in the technology, food & consumer products, professional services & manufacturing industries. Reinvent your recruiting by contacting Creative Alignments at www.creativealignments.com or call 888-502-8944 to learn more.
About OUTSIDE:
OUTSIDE is America's leading active lifestyle brand. Since 1977, OUTSIDE has covered travel, sports, adventure, health, and fitness, as well as the personalities, the environment, and the style and culture of the world Outside. The OUTSIDE family includes OUTSIDE magazine, the only magazine to win three consecutive National Magazine Awards for General Excellence, The Outside Buyer's Guides, Outside Online, the Outside Podcast, Outside Television, Outside Events, Outside+ for the iPad, Outside tablet edition, Outside Books, and Outside GO, a revolutionary, 21st-century adventure-travel company.