Creative Alignments Named One of 50 Top Colorado Companies to Watch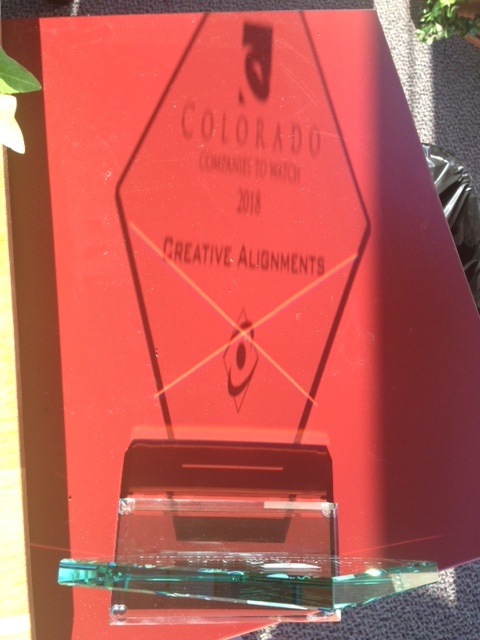 June 22, 2018
Recruiting disruptor Creative Alignments has been named one of the top 50 Colorado Companies to Watch out of more than 1,100 nominees, acknowledging the drive, excellence and influence of Creative Alignments as a growing company in its own right, and as a company fueling the growth of other emerging companies.
Colorado Companies to Watch is a state-wide movement to honor second-stage companies that have created categories, disrupted business models, and served as bright lights in our state's flourishing economy.
"We are pleased to recognize Creative Alignments as one of Colorado's 50 most innovative second stage companies," says Rick Ninneman, Colorado Companies to Watch Board Chairman. "These companies contribute significantly to the growth and economic independence of the state by developing new services and products, creating jobs, enriching communities and generating new industries."
Creative Alignments has turned the recruiting industry on its head with its time-based recruiting model. The company charges only for the time it takes to fill positions, rather than a large commission based on first-year salary. This business model paves the way for a more transparent, collaborative partnership between employer and recruiter. Local entrepreneurial companies like SolidFire (acquired by NetApp in 2016), VictorOps (recently acquired by Splunk), NextFoods (GoodBelly), and Bhakti Chai have relied upon Creative Alignments to help them build successful teams quickly during high-growth phases.
"We partner with emerging brands to help them grow by building the most talented teams of employees," says Peggy Shell, CEO and Founder of Creative Alignments. "We are thrilled to join the ranks of the most notable companies in the state – an honor many of our successful clients have also received."
Creative Alignments works with about 100 clients annually, including many natural products, CPG and tech companies that are quickly scaling up and fueling Colorado economy.
"The overall Colorado unemployment rate stands at 2.4% and it's even lower than that in industries central to our state's economy, like tech and natural products," says Shell. "The labor market and the pace of corporate growth is very different than it was years ago, yet archaic traditional recruiting practices still remain today. We've upended the industry with a pay-for-effort model so companies can grow faster and realize greater success with the right teams in place."
Colorado Companies to Watch works to recognize the driving economic forces in the state by focusing not merely on growth, but on the true impact and influence of an organization. By focusing on second stage companies across the state, the program offers distinct insight into the state's economic landscape and recognizes organizations often overlooked for the critical impact they have in their industries, communities and regions, as well as our state as a whole.
About Creative Alignments
Creative Alignments was founded in 2010 and delivers an inspired approach to recruiting. Unlike traditional contingency recruiting, they take no commission and no percentage of salaries. Whether a company is targeting a key strategic hire or dramatically expanding their team, Creative Alignments' hourly billing model and on-demand approach respond to their client's evolving needs.