CA Client Celebrates "Saul" and National Sticker Day
In celebration of National Sticker Day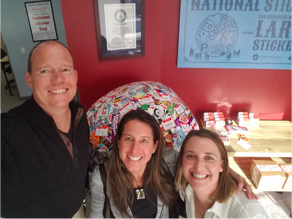 January 13, 2017
Who doesn't love a great sticker? Celebrate with our client, StickerGiant, as they roll a "weigh" with a giant Sticker Ball named "Saul." 
StickerGiant, the fastest, highest quality custom sticker company in the U.S, is giving everyone a reason to celebrate this January 13th. They've teamed up with the National Day Calendar, creating National Sticker Day. The date selection was simple, since on the 13th of January, 1907, R. Stanton Avery (the esteemed inventor of the first self-adhesive label) was born. And the rest is sticker-history.
Last year, in honor of Avery and the decades of sticker-mania that followed his creation, "Saul", the sticker ball was born, at a weight of less than a pound.
StickerGiant loved the idea of creating a massive collection of stickers. And why not? It is fitting for a company with the word "giant" in their name. StickerGiant first thought to use the company's initials, "SG." From this, employees immediately associated that with the infamous character off of "Breaking Bad," Saul Goodman. And so, the title of the world's soon-to-be largest sticker ball, was born. 
Throughout the months that went into Saul's creation, the process became an unexpectedly fun way for the community and the StickerGiant team to come together. The production of Saul became an immense team building project for hundreds of people and surprising way of showing the value of stickers in marketing and their presence in everyday life. 
With a final weight of 231.6 lbs, and a circumference of 8.8 feet, StickerGiant won a Guinness World Record for the Largest Sticker Ball as part of their celebration on January 13th, 2016. The sticker ball has not only earned its right to a world record, but also to its own personal name, Saul.
At CA, we love stickers for their versatility, cost effectiveness, and succinct promotional ability for an employer brand. Kudos to the team at StickerGiant for creating an amazing project!
Here's John Fischer, CEO, with  Natalie Wallis, Senior Recruiter and Katie Daiker, CA Partner.