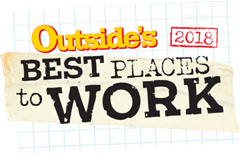 November, 2018
BOULDER, CO, November 1, 2018 – Creative Alignments has been recognized as one of OUTSIDE's Best Places to Work 2018. These companies provide great workplaces for employees and encourage a balance between work and enjoying life in the great outdoors, while also respecting the environment. Colorado companies represent a large portion of those honored with this distinction.
"We are proud to join the selective ranks of companies with positive, balanced, environmentally responsible workplaces for the second year in a row," said Peggy Shell, founder and CEO of Creative Alignments. "Our job is to help match talented employees with jobs at great companies, so we understand the importance of creating a culture where people want to work, especially in this tight employment market."
Creative Alignments helps fast-growing companies hire talented employees using their disruptive Time-Based Recruiting model. They have turned traditional recruiting on its head by simply charging by the hour for the time it takes to fill a position for a company, rather than charging large commissions for each hire. By removing the motivation of a commission windfall, Creative Alignments is able to have a transparent and collaborative relationship with its clients and become a scalable extension of their client's in-house team.
"Companies from across the country entered a rigorous two-part survey process to make the winning list," said Abigail Wise, online managing editor, OUTSIDE. "Employees took part in a survey to measure personal experience, while The Best Companies Group evaluated each company's workplace policies, practices, philosophy, systems and demographics.
The winning companies are those that value productivity in combination with an active, eco-conscious lifestyle, for a fulfilling experience inside and outside the office. This is OUTSIDE's eleventh year providing the Best Places to Work.
The complete list of OUTSIDE's Best Places to Work 2018 is available at OutsideOnline.com.
For a list of past winners and for more information on the selection process, visit Bestplacestoworkoutside.com
For more information on OUTSIDE's Best Places to Work 2018 or to schedule an interview with an editor, please contact Kailey McGarvey at [email protected] or 646.695.7046. For more information on Creative Alignments, please contact Shenna Fitzgerald at [email protected], 303-653-3235.
About Creative Alignments:
Creative Alignments (CA) is a disruptor in the corporate recruiting space, using a Time-Based Recruiting® model that is more cost-effective than traditional commission-based recruiting. Whether a company is hiring one or 100 employees, CA establishes a flexible talent partnership that is focused on the company's goals and aligned with its culture. While traditional percentage-of-salary recruiting firms are costly and candidate-focused, CA aligns with client companies to tap into great talent while saving them money with an innovative pay-by-the-hour process. Their experienced senior team recruits across all functions in the technology, food and consumer products, professional/general services and manufacturing industries. Learn more at www.creativealignments.com, 888-502-8944, Twitter: @CARecruiting, Facebook and Instagram: @creativealignments.
About OUTSIDE:
OUTSIDE is America's leading active lifestyle brand. Since 1977, OUTSIDE has covered travel, sports, adventure, health, and fitness, as well as the personalities, the environment, and the style and culture of the world outside. TheOUTSIDEfamily includes OUTSIDE magazine, the only magazine to win three consecutive National Magazine Awards for General Excellence, The Outside Buyer's Guides, Outside Online, the Outside Podcast, Outside Television, Outside Events, Outside+ App (also available on Google Play), Outside Books, and Outside GO, a revolutionary, 21st-century adventure-travel company. Connect with Outside Online and Facebook, Twitter, Instagram and Pinterest.
About Best Company Group:
Best Companies Group works with national and local partners around the country and internationally to establish and manage "Best Places to Work," "Best Companies," and "Best Employers" programs on a national, statewide, regional and industry basis. Through its thorough workplace assessment, utilizing employer questionnaires and employee-satisfaction surveys, BCG identifies and recognizes companies who have been successful in creating and maintaining workplace excellence.